Perth Party Time is a "five star" unique group of Professional Children's Entertainers. We host the best Kids Birthday Parties in Perth.
We provide a Menagerie of Kids Birthday Party Entertainment, roving entertainment for festivals and corporate events  
and Adult and Teenage/Kids Disco Party fun including :
Unique Interactive  Children's Birthday Parties where our entertainers will get everyone involved.
Teenage Disco Birthday Parties.  Unique theatrical Kids Magic shows.
Themed Parties including Superhero and Fairy princess  and Unicorn  Parties just to name a few.
Our unique Adult Disco Party entertainment comes with or without our "mad party games and activities" to  break the ice.

Our service is unique, creative and  high energy theatrical entertainment, which makes us stand out from the rest.
We create magical memories and guarantee everyone at the Party will have an experience they will always remember.
If you are seeking fantastic quality Entertainers who reliable, passionate,  at a reasonable price, then look no further.   Our customer's reviews say it all! 

Wendy Somers
June 2019
I booked Perth Party Time for my son's 5th birthday. It was the best party ever! The kids and adults had an absolute ball and there was a true party atmosphere that you just don't get from play centres. Parents were commenting about how quick the time went and no kid was ever bored. Jelly Kelly and Mr Glennibean had so much enthusiasm and energy that the kids just loved. They have a genuine love for children and for entertaining. I wouldn't hesitate recommending Perth Party Time to anyone and look forward to having them come again.

Jessica Featch
July 2019
I am so glad to have stumbled across Perth Party Time & KellyJoy and her team! We threw our 6 year old son a Disco Party and to say EVERYBODY was impressed is an understatement. The kids had an absolutely fantastic day of disco dancing, games, singing and dressing up for selfies! KellyJoy is a pleasure to deal with and you can just tell that she thoroughly LOVES what she does - the kids were drawn to her for the whole two hours, they 'flossed', did the conga line, had dance off's, played plenty of games, sung their hearts out all while getting their glow on with the fluro face paint and glow sticks. All the parents have commented that it was the best kids party yet! I would highly recommend KellyJoy and Perth Party Time to everyone!

Hannah Bradley
December 2019
Couldn't recommend Perth Party Time enough!! We recently had Jelly Kelly and Mr Glennibean come to my daughters 6th birthday party and wow am I so glad I made to decision to have them join us - it made for the most fun, exciting and memorable morning! My daughter and all her friends had such an amazing time and I've had so many comments from parents about how fantastic they were and how their child was still talking about it long after they left the party. Jelly Kelly and Mr Glennibean were fun from the moment they got to the party with the children captivated by their high energy and bubbly personalities for the whole duration of their time with us. The games were simple, age appropriate games but their enthusiasm and genuine love for what they do just took them to the next level! Thank you so much Jelly Kelly and Mr Glennibean, we will definitely be seeing you again for other parties in the future!

Elise Laycock
August 2019
WOW, Jelly Kelly and her team are absolutely amazing! We had the pleasure of having Perth Party Time at my childrens joint 2nd and 4th birthday party and I honestly could not recommend them enough. They dont only get the children involved but also the parents, adults, bigger children and anyone who is there! It really is a good time for the whole family! From the storyline to the games to the body glitter and rainbow painted noses, the dressup custumes, the music, bubbles, the jokes and the certificates for all the children you really know how to entertain. Jelly Kelly has so much love for children and it most definitely shines through in her performances. Thank you so much for a memorable day and putting smiles on everyones faces!

Iva Frazer 12/2019
The best kids entertainer yet! And the adults enjoyed the show just as much. Kelly and her crew are genuinely in it for the kids, which is apparent the moment they arrive. Kids just flock to them and it's wonderful to see, while we parents enjoy a drink and a chat uninterupted! Kelly is energetic, fun and hillarious. She is captivating, engaging and her kind nature shines through whatever costume she wears to your little darling's special day. She comes equiped with music, bubbles, face paint, dress up costumes, games and loads of enthusiasm. I highly reccomend Kelly and Perth Party Time. Even I got to wear oversize clown pants and loved it and now can't wait for the next birthday party!

Melissa Bertone
March 2020
To find an entertainer I simply searched Google, and found someone with lots of 5 star reviews. There is a reason that Kellyjoy is SO highly rated. She is literally rainbows, sunshine and sparkles wrapped into a person. The Jelly Kelly show had every child laughing, dancing and enjoying the entire party. She very clearly loves what she does and is an absolute joy to watch. Highly recommended. Do yourself a favour and hire her!
The PPT Fluro Disco Dance Party and Silly Olympics…this Disco Dance Party Event is suited to Tweens, Teens and Adults. Lots of dancing and high energy fun and includes Photo Booth plus hundreds of props, accessories and costumes. All high tech sound and lighting equipment, commercial smoke and bubble machines included.  Suits ages 7 + 
Jelly Kelly and the Muffins Show…is a very unique interactive Kids Birthday party. Our show mesmerizes and entertains even adults. High energy fun and laughter with lots of praising. This is a very special Kids Party entertainment package and includes games and basic face painting.
It is perfect for children's birthday parties of all ages.
The Tragic Magic Show. ..this production is definitely not your usual  Kids Magic Party Entertainment. It is none stop slap stick and funny magic with  the "Count Glennibean" the magician and his assistant the Accident prone crazy "Jelly Kelly". Lots of fun games to avoid bored Kids  getting restless.
Suitable for  all ages.
While we have our own unique style of interactive parties, we also appreciate the pretty in pink girly girl and all the classic fairy tales of modern day and years gone by. Includes Mini Face Painting. Our Princesses will bring joy to your little Treasures birthday party . Choose your favorite Princesses and Unicorns and we will delightfully bring our Crafty Pamper Tea Party to you. 
The world of the fairy's is a precious place. Never ending Stories and make believe fun in the Magical realm of a child's Imagination.  Includes Mini Face Painting. This  Enchanted journey is perfect party for any budding fairy. It suits smaller kids party groups.  both girls and boys can enjoy this very magical and enchanting experience. 
Suits Ages 3+
Superhero / Action Parties
Calling all explorers adventures and Superheroes. This is a Den building extravaganza. Our Challenger assault course is made to exert the most energy of  active children. Team games, superhero dress ups and a Treasure Hunt to match any will keep your little monkeys challenged at all times.
Suitable Boys and adventurous girls for ages 5+
Toddler Time Magical Party.
This children's party event is all about parent and child bonding through play, creativity, music and storytelling. Designed especially with Babies and Toddlers in mind, however, older Kids will still have a wonderful time at the party. Suites Ages 0-4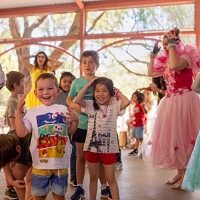 This party is a favorite with any tiny tots and young children that enjoy singing and dancing. All classic and new hits from movies and TV shows rolled into an epic Birthday party. Movement and games to  keep them fully engaged.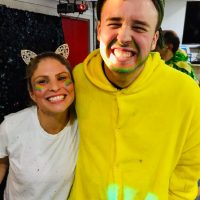 Free Kids Club/ Charitable work
We are privileged to work with some amazing kids, families and organizations in our local community. We love nothing more than sharing our  joy and high energy fun. We also host free kids parties for worthwhile charities.