Whimsical Mystical Fantasy Gang
Welcome to the magical world of fantasy creatures and mystical characters. We want to share with you everything we know about the secret world of Fairies, Elf's, Pixies, Pirates and Mermaids. We have 4 fabulous packages for you to choose from and each has something delicious and delightful and we promise to thrill, entertain and ware out your little creatures.
I am usually not the one to write rave reviews, but Perth Party Time deserves ten stars from me. I came across this company whilst searching for unique birthday party ideas for my soon-to-be 5 year old daughter. We had the team of Mermaid Arora and Pirate Pete joining us for our special day and it was the best decision I had made! First of all, Arora is the most amazing mermaid - she is naturally elegant and her mermaid tricks are truly mesmerising. Kids couldn't believe their eyes when Arora was showing off her mermaid swim in the pool. She moves, swims and even sings like one! I should mention she is a very talented singer and it was a magical moment for little ones and grown-ups alike - when we gathered around to listen to her amazing voice (and watch her cheeky tail flipping tricks!) Then comes Pirate Pete. What can I say? Simply the most talented person I have seen in the kids entertainment business. Pirate Pete engages with every child in his party tricks and games, and his level of energy and enthusiasm is second to none. He just seems to know how to bring beautiful smiles on the children's face. Perth Party Time differentiates themselves from other companies on the level of professionalism, enthusiasm and quality. If you want to create special memory for your children, book with Mermaid Arora and Pirate Pete and they will make your event a very special one filled with lots of joy and laughter. Thank you again Arora and Pete, I cannot wait to plan the next year's party with you guys!
Kelly and the team were fairies for my daughters 4th birthday.. it was AMAZING!! Kids and parents had a great time with activities, music, dress ups, bubbles, make up for kids and parents, singling and dancing - and that was all fitted into just over an hour. Kelly had all the kids under control and her enthusiasm was contagious with all of us getting in and having fun! The outfits, all the props and extras they brought with them provided that cherry on top service - Thank you! Highly recommend Perth Party Time!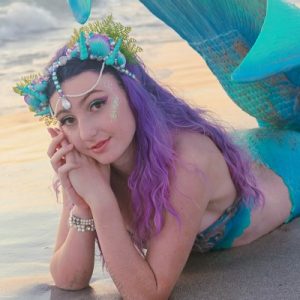 The Bubble Master and the Glitter Bling Fairy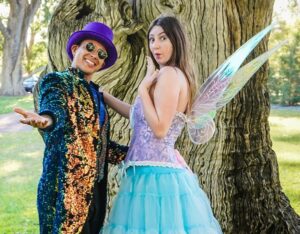 This fairy and elf theme birthday party is perfect for children
aged 5 – 10
The Bubble Master is an Elf from the pickle tribe, he stumbled upon Perth some moons ago and feel in love with the beautiful Glitter Bling Fairy. What's included in this cute warm and very fun birthday party show…..
The Bubble Masters Giant Bubble Show. Wings and wands (bubble wands) for everyone. The children get to try making giant bubbles with the bubble master then they all get mini wands and make bubbles together. We don't recommend this party for children under 5 as it can get a little messy and we are very wary of children getting bubble juice in their eyes. Every child will find out what the world looks like from inside a giant bubble. This party is the ultimate bubble feast.
The Glitter Bling Boutique, be showered with love and sparkles from the Glitter Bling Fairy. Fairy's and Elves love a boogie so of course theres a PA system and music to delight your ears.
High Energy Games Plus the Glitter Bling Fairy's really awesome Treasure hunt. So much BLING!!!
Our Cosy corner, cushions and blankets are the perfect  place to sit and watch the show from. This party is perfect for groups of 15-children, although we have a modified version for larger crowds.
This Mermaid and pirate theme birthday party is perfect for children age
4 -10
Arora the Mermaid is a beautiful creature, she works best when Bluebeard the pirate is by her side as they have been treasure hunting together for many years and he loves to take care of his sweet siren.
Here's what's included in this dream pool party package….
Mermaid water performance, let Arora show you what a mermaid can do. 
Mermaid Song and Story Time
High Tea and Picnic
Questions and conversation
Mermaid sparkles
Photo opportunity
At NO time are any children in the pool whilst Arora is entertaining. We pride ourselves on working to the highest standard of excellence in all areas of our work. Children's safety is always our number one concern. 
Contact Kellyjoy today to enquire about this unique kids birthday party
This fairy theme birthday party is best for girls and boys age 4-6
Basil and Bunny are on a mission to requite Fairy's and Elf's. You will learn to fly and beautify just like these mystical creatures. This package is especially excellent if you are inviting boys and girls to your child's fairy themed birthday party. Basil is a boy fairy and Bunny is his cheeky Elvin best friend, this is a fun high energy package. This duo are equipped with enough wings and fairy dust for each child. They will set up a cozy corner with pretty blankets and sparkly cushions but the children will not be sitting for long this is a high energy party and all about movement and physical activity. There will be jumping games, sake races, giant parachute games and the budding fairies with be taught how to fly of course. PA system included because everyone knows fairies love dancing. This party is best for a large group of kids that need to burn off heaps of energy. 
The Enchanted Fairy Tea Party

This  fairy theme birthday party is perfect for little fairy's age 2-6
Fairy's Flossy and Flow will entertain and keep your precious little ones happy with their magical set up of wonderful fairy equipment and accessories.
There dresses are beautiful and so are these 2 professional entertainers. They come with warm hearts and big smiles plus a heap of fun props games and goodies and wings for everyone.
This is a party designed for the younger quieter crowed and children that love imaginative play. Our enchanted fairies will entertain and play with your little tots. They come equiped with musical instruments nursery rhymes and puppets for creative play, everything we do is age appropriate. We know what suits babies and toddlers and we have heaps of fairy magic to share. Mums are always telling us how much they love our fairy tea party its simply magical. This party is best suited to babies and toddlers.
Travel of up to 30 mins, there is a small fee for extra distance see

FAQ 

Set up time of approximately 30 minutes (which is usually done prior to guests arriving.)
Option for 60 or 90 minute Party
Two adult Entertainers
Music and audio system
Commercial Bubble Machine
Face painting
Boxes of dress up materials and costumes
Glitter Bling Boutique
Games full of Fun and laughter.
Working with Children Certificate
We require a small nonrefundable deposit with a booking to secure your date and time 
WE CREATE MAGICAL MEMORIES