stage Show's for family Events
Smash Hits Kids Live Stage Party
FUN fact about Jelly Kelly's Fans, they love to sing and dance. Jelly Kelly is WA'S Biggest and Best kids performer and Entertainer, this fun Live Stage Extravaganza is Amazing, as voted by the Channel 7 Crab Fest Mandurah. This performance bursts with all the kids favourite songs and the tunes they know and love.  Kids and the grown ups cant help but go wild, everyone loves MC Jelly Kelly's crazy dance routines. Come on let's sing and dance, play and jump the night away. This live stage performance is perfect for Festivals and BIG Events, Hotels and corporate clients love our work.
Suitable for Humans 0~100 ~ A Family Fun Time
Have you ever experienced the  excitement of a pantomime stage show before? well here is your chance.This Magic Show is unique in each and every way. Poor Count Glennybean the world famous Magician is having a really difficult time with his cheeky assistant, all he wants to do is show off some magic but the mischievous and somewhat naughty Jelly Kelly has other ideas. Always up to no good and always up for big laughs, Jelly Kelly and Count Glennybean will take you on a pantomime adventure. We have heaps of amazing magic and tons of very silly antics in this great childrens and family stage magic show. This show is perfect for schools, Hotels, and corporate events. 
Suitable for children 4+
Have you heard about the Jelly Kelly and the Muffins show? Our amazing interactive show about friendship, creativity and love. Well once again Jelly Kelly is on a mission! She wants to spread the word that every boy and every girl in the whole wide world is Amazing, Incredible and Unique. The Rainbow Revolution is a stage show version of our number 1 show and is for schools. Jelly Kelly and her Elephant bestie Bubbles are about to start at a new school, but it doesnt go smoothly. Being unique is not straight foward. Our colourful characters will take your children on a thought provaking  journey into the world of not fitting in, learning to be happy with being diffrent and even celebrating the diversity of people. Jelly Kelly wants each and every child to love themselves and feel confident, plus its cool to be kind. The Rainbow Revolution is a comedy show for kids with topics to make them think, feel and grow strong.
Suitable for children 4+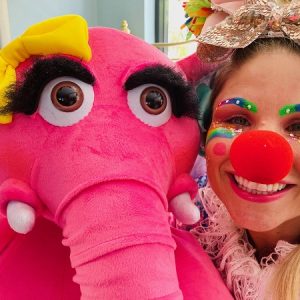 With so much talk about Muffins we thought we should fill you in on who they are. Yes Muffins are yummy treats if you go to the bakery but in the magical world of Jelly Kelly, Muffins are kids, kids that have joined her club or not joined her club. Nobody is left out. If your child has been lucky enough to have experienced the Jelly Kelly and the Muffins show then they are in and part of the fun, if not dont fear its easy to join and whats more Jelly Kelly does heaps of free work in the community and regularly visits schools to perform and recruit for the Rainbow Revolution.
Suitable for Humans 0~100
Are you a Not For Profit or Charity? Is your school, business or organisation having a fundraiser? Then this is for you.  Nominees are cherished, courageous humans. who are up for a laugh. We do not do surprise pies, it's all about "feel good fun" Whilst raising money for your chosen organisation. The pied person can be a Teacher, Boss, Parent but have no doubt they are a Hero! The fundraising process is simple those who would love to see the hero wear pie donate a gold coin or donation of their choice to the agreed charity.