Perth Party Time is simply by far the best provider for large School Disco's and graduations in Perth. Our service is without equal and it includes an array of high tech lighting and lasers and together with our large sound system including several banks of UV lighting and Mirrors create's a truly magical atmosphere of light and sound.
Add to that our high energy entertainers and service with games for huge groups of 100+ and we guarantee to make your event a major success. What sets us apart from other DJ's services is that we are a "Team of Two " with years of  experienced dealing with and entertaining children. We know what excites and encourages children to get involved  We provide  fun games and comfortable environment for them to have fun. 
We have a front of  stage performer on the dance floor to encourage kids involvement in dancing and singing to get the party rocking and everybody having a fantastic time.
The Dj behind the booth has years of experience with these events and keeps up to date with the current trends and favorite tunes for the individual age groups including the classic singalong classics.
Even the parents staff and teachers will be tapping their feet.
NOTE: This page deals specifically with "School discos"  to see Entertainment options for other types of "School Events" and programs"   including primary and preprimary go to this page and  CLICK HERE.
Wow! Absolutely amazing. We had Perth Party Time for the Year 6 graduating year social disco. All the kids (and their parents) had so much fun and it really made the night one to remember for all. I'd highly recommend Perth Party Time for any children's events. Initially, I was a little concerned that her team might be based to a younger audience, than cool graduating 12 year olds. But they were both ( Kelly and Glenn) had it spot on. The kids were beaming, laughing and entertained the whole time. The music was age appropriate and requested by the kids, there was a great range of good quality photo booth props and the glitter bling art was fabulous. Even the boys were lining up to get some. In the words of my 12 year old. 'BEST NIGHT EVER. No teachers, No rules, just so much fun!'. Thank you so much Perth Party Time. You made our night.
As a P&C we hold Discos for our School, and over the years after using the same DJ with lackluster results, we decided to try someone new. Unfortunately, the person we had booked in, cancelled on us 5 days out from our Disco. This turned out to be a blessing in disguise. Not wanting to disappoint our kids & parents, we sort about finding a replacement, in much panic on a Sunday morning. Within an hour, I had not only received a message back, I had discussed our needs with them over the phone and booked them for our Disco. I was very impressed with their communication. On the day of the Disco, they arrived on time and were set up and ready to go for the start of the first session. Within the first 5 minutes of seeing how much they interacted with the kids and how much the kids were enjoying themselves, I knew we were in for a great night. We have had so much positive feedback from the children and parents from our Disco and we look forward to securing them for our future Events. SOUTH PADBURY PRIMARY SCHOOL P&C
Thanks so much Perth Party Time, all the kids and parents had such a fantastic time at our school disco recently. We would love to book you every year! Couldn't be more happier with the music and entertainment. Well done 🙂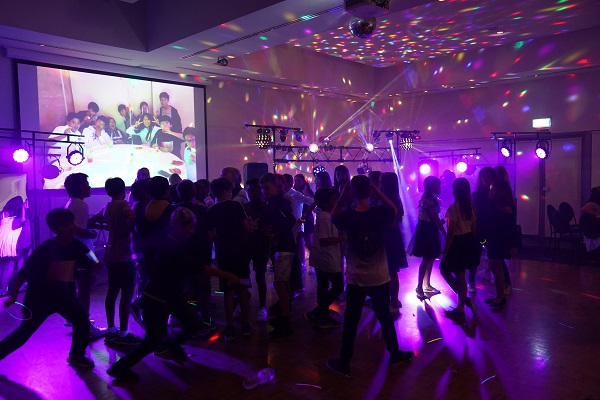 Travel of up to 30 mins (there is a small fee for extra distance see

FAQ

)
Set up time of approximately 90 minutes. NOTE We require easy access (without stairs) to venue due to the large amount of equipment.
Optional times depending on the number of children and sessions you require.
Two adult Entertainers
DJ Booth and Equipment
Large Lighting arrays including lasers and high tech lighting
Two large UV light banks with perspex Mirrors
Age appropriate music
PA System.
Large sound system to suit even the largest venue or crowd.
Two Commercial Bubble Machines
Smoke machines if appropriate
Basic Face painting -rainbows and glitter-  Optional Extra and not suited for groups over 50
Interactive high energy games
Boxes of dress up materials and costumes – optional Extra – not suited for groups over 50
Enough fun dancing and laughter to exhaust even the most active of children
Working with Children Certificate
We require a small nonrefundable deposit with a booking to secure your date and time
WE CREATE MAGICAL MEMORIES