Entertainment for large School groups
We at Perth Party Time are "MORE THAN" just children's birthday party entertainers, we work with all education providers, children's daycare centers and OSH after school and school holiday programs, either run by local government or the YMCA. 
NOTE: This page deals with other options for school events  and Excludes large discos events and graduation  Click Here to go to our specific page on School Graduations and Discos.
Here are our main  attractions for schools and the education providers … 
The Jelly Kelly & the Muffins Show – pre and Primary School
The Tragic Magic Show- Primary School
Jelly Kelly & Co roving Acts and Entertainment
School Graduation Balls and Discos- Primary or High Schools Click Here

The jelly kelly and the muffin show
This show is perfect for education providers with it's hidden messages of praise  self esteem and confidence building plus bonding through play. This interactive adventure party has become a hit for so many reasons. The truth is this joyful experience enriches the vibrant multidimensional fabric of our relationships with pupils friendships with piers and school communities.
Wow! Absolutely amazing. We had Kelly and her team for my daughters Year 6 graduating year social disco. All the kids (and their parents) had so much fun and it really made the night one to remember for all. I'd highly recommend Perth Party Time for any children's events. Initially, I was a little concerned that her team might be based to a younger audience, than cool graduating 12 year olds. But Kelly had it spot on. The kids were beaming, laughing and entertained the whole time. The music was age appropriate and requested by the kids, there was a great range of good quality photo booth props and the glitter bling art was fabulous. Even the boys were lining up to get some. In the words of my 12 year old. 'BEST NIGHT EVER. No teachers, No rules, just so much fun!'. Thank you so much Perth Party Time. You made our night.
As a P&C we hold Discos for our School, and over the years after using the same DJ with lackluster results, we decided to try someone new. Unfortunately, the person we had booked in, cancelled on us 5 days out from our Disco. This turned out to be a blessing in disguise. Not wanting to disappoint our kids & parents, we sort about finding a replacement, in much panic on a Sunday morning. Within an hour, I had not only received a message back, I had discussed our needs with them over the phone and booked them for our Disco. I was very impressed with their communication. On the day of the Disco, they arrived on time and were set up and ready to go for the start of the first session. Within the first 5 minutes of seeing how much they interacted with the kids and how much the kids were enjoying themselves, I knew we were in for a great night. We have had so much positive feedback from the children and parents from our Disco and we look forward to securing them for our future Events. SOUTH PADBURY PRIMARY SCHOOL P&C
Thanks so much Perth Party Time, all the kids and parents had such a fantastic time at our school disco recently. We would love to book you every year! Couldn't be more happier with the music and entertainment. Well done 🙂
The Tragic Magic Show is perfect for large crowds, and groups.  NOTE: We will require an indoor space (assembly hall)  to perform due to the stage setup to enable the performance. We have created the ultimate kids show with slapstick comedy and all the pantomime greats of "she's behind you", your children will be screaming with joy. Poor Count  Glennybean the magician all he wants to do is preform his marvelous magic but accident prone Jelly Kelly has other ideas. 
More information abut this show can be found here.
Jelly Kelly's Roving acts and entertainment
Our Roving Clown Jelly Kelly and her friends are perfect for school Fete's. The incredible team of professional entertainers will enthrall and captivate. Weather you need a perfect princess or super hero or maybe a whimsical mystical character we at Perth Party Time have a huge variety of roving acts to choose from.
And theres no one more joyful, cheeky and mischievous than The Jelly Beans. These 2 crazy Clowns are a delightful addition to every kind of school event but especially the School Fete. The Jelly Beans are colorful and noisy and seriously silly. With their Bubble propelled pram and crying baby they will bring their eccentric fun and have kids and adults laughing and joining in the games and magic.
We can even do our famous giamty bubble show.
Book early to avoid disappointment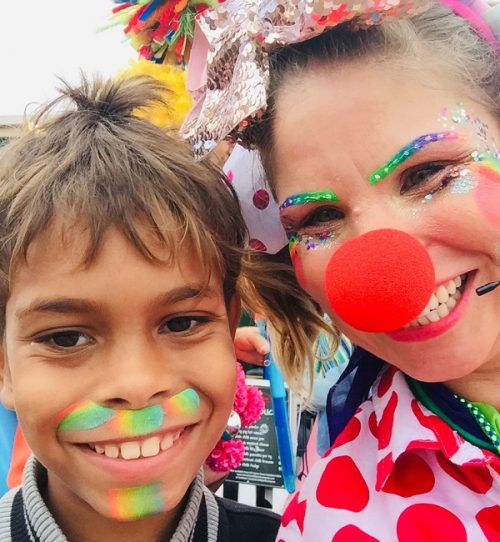 Travel of up to 30 mins (there is a small fee for extra distance see

FAQ

)
Set up time of approximately 20-45 minutes depending on the type of show or entertainment provided.
Option for 60 or 90 minute Show. 
Two adult Children's entertainers
High Quality PA System and Head sets
Commercial Bubble Machine
Basic Face painting – Optional Extra- rainbows and sparkles.
Interactive high energy show  
Boxes of dress up materials and costumes
All props for Games
Enough fun and laughter to exhaust even the most active of children
Working with Children Certificate
We require a small nonrefundable deposit with a booking to secure your date and time 
WE CREATE MAGICAL MEMORIES