Entertainment for large groups
We love Perth and its beautiful people, being part of the Perth community is very important to us. We are already a household name due the many hundreds of parties we have hosted across Perth. Why not book us for your next event and watch as we share love, joy and praise. See our beloved followers flock like magnets to our high energy fun.
Our main Entertainment features suitable for Festivals and Public Events are:
Jelly Kelly and co, Roving Acts and Entertainers
Jelly's Glitter Bling Boutique 
Jelly Kelly and the Muffins Show 
Story Time with the Jellybeans and Puppets
Blown away by the absolute magic joy and positivity that this team showers on children's events. To say that they went above and beyond to support our event is an understatement. Couldn't be more impressed. Five stars all the way!!!
I highly recommend Perth party Time for any children's event we where lucky to have them at our Christmas events two years in a row. I was amazed how the children responded to the team and the characters. They accommodated all ages from one to nine and this year the nine year old's requested that Jelly Kelly the Clown came back again. They faces beamed from the positive praise and every Child was included. They arrived on time and where professional to work with and take full control of the children from beginning to end. I loved the way the children responded to Kelly and her team and they had an incredible way of including the adults.
Kelly and Glenn i honestly cant thank you both enough, such a great job.You guys where incredible and handled everything so professionally. You did what you said you were going to do and brought the fun. The night and you guys exceeded my expectations and i am truly grateful. Ben Pophams welcome home party that had close to 400 people and with guests that included The Lord Mayor Basil, Telethon, Fatcat, and Channel , Paralympians and Politicians went off without a hitch! and wouldnt of been so successful without you both. YOU GUYS ARE AMAZING!!!!!! Highly REcommend
Jelly Kelly and co, Roving Acts and Entertainers
"Mr and Mrs Jellybean" and the whimsical gang.
Clowns are a cherished and timeless form of entertainment and here at Perth Party Time we have broken the mould and put a new spin on these misunderstood performers. The Jelly Beans will bring warmth and smiles, fun and laughter plus they will entertain both young and old in their truly unique fashion. Jelly Kelly and Mr GlennyBean along with Baby Bubbles the Elephant and their bubble propelled pram will roam the site and sprinkle the party goers with more than just joy as Jelly Kelly has her own mobile Glitter Bling boutique. Who doesn't love to sparkle.
Clowns have received a bad wrap over the years however our clowns are definitely not scary but loved by all for their warm personalities, silly behaviour, bright colours and versatile nature these red-nose friends will blend into any public event. Jelly Kelly has a best friend and she is also a very loved member of the Jellybeans gang and her name is The Glitter Bling Fairy, so when booking The Jellybeans please remember who you would like to invite to your event Jelly Kelly Clown and Count Glennybean the world famous magician or maybe The Bubble Master and The Glitter Bling Fairy.
Our team of roving acts and entertainers are professional and theatrical characters and we have many to choose from, please checkout The highly creative, truly magical and seriously marvellous, Whimsical gang. Which every characters you invite to your event Kellyjoy and her team will not disappoint.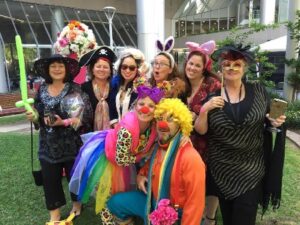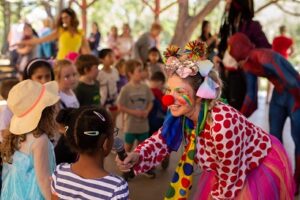 Glitter artists are the new trend to hit festivals and all big events. Glam girls and gorgeous guys are queuing up to get their faces and beards painted with starry twinkle treatments. Body art professionals are everywhere but none are like Jelly Kelly. Trained in Clown Beauty she is the glitziest clown in town with her very own Glitter Bling Boutique.  Our products are of the highest  quality. Your event will truly shine with Jelly Kelly ready to adorn music lovers party going kids or adventurous Adults alike. Social Media users love taking selfies with our super colourful and outrageous clown showing off their new bling.
The Jelly Kelly and the Muffins Show
The Jellybeans craft and Activity Marque
Who will you invite to your event, The Whimsical Gang and Jelly Kelly. Your little guests will adore everything we have in store for them in our arts, crafts and activities marquee. We have an array or awesomeness from painting and drawing to jewellery making and more. This Activity centre is the perfect addition to any school event or community based festival. We love Perth.
Story Time with Jellybeans and Puppets
The Whimsical Gang & Jelly Kelly love a good book, theatrical and highly entertaining let these beautifully funny characters engage your little people in stories. Imagination is at the core of Perth Party Times message & mission, let's build, sow and grow children through the art of story telling. We use music, props, nursery rhyme and puppets to take your children on a trip to story land.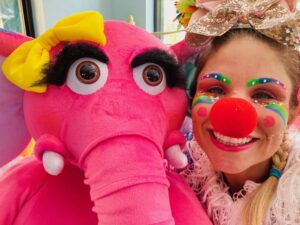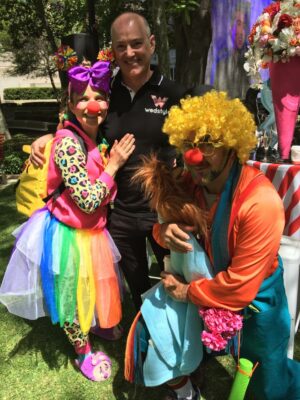 Travel of up to 30 mins (there is a small fee for extra distance)
We are flexible with times however due to our high energy entertainment will require some breaks during our sessions.
Two Entertainers.
PA System and commercial bubble machine and various props including balloons, puppets, costumes and of course silly pranks and games.
Jelly's Glitter Bling Boutique. Note:  We will on occasion charge a small fee to patrons depending on the size, detail and products used in each of their artistic requests.
We are happy to tailor entertainment requirements to suit your needs.
We require a small nonrefundable deposit with a booking to secure your date and time.