We are a versatile kids entertainment company. With huge Offerings, from  Kids stage shows, distinguished roving performers and Perths Biggest Energy Comedy MC Jelly Kelly. Checkout our 5⭐️ reviews  there is a reason we have hundreds, we are Perths Finest Kids Entertainers.
Are you planning a fun fabulous festival or a local community event, Big or Small we can help.
We love Perth and all of regional Australia and we especially adore all her beautiful people. Being a part of the Perth community is very important to us. We are already a household name due the many hundreds of parties we have hosted across Perth. We also travel regional WA and service Australia far and wide. We drive and tow a large vehicle, big distance is no problem for us. When we come to your town we are able to provide on average 3 completely different events. Read through our website and packages to see how wonderful versatile we are. 
Heres a quick guide to our top festival must haves
Jelly Kelly and co Roving Antics
Big Energy Comedy MC Event Host 
Jelly Kelly and the Muffins Show
The Tragic Magic Show
The Ultimate Floor Disco
Blown away by the absolute magic joy and positivity that this team showers on children's events. To say that they went above and beyond to support our event is an understatement. Couldn't be more impressed. Five stars all the way!!!
I highly recommend Perth party Time for any children's event we where lucky to have them at our Christmas events two years in a row. I was amazed how the children responded to the team and the characters. They accommodated all ages from one to nine and this year the nine year old's requested that Jelly Kelly the Clown came back again. They faces beamed from the positive praise and every Child was included. They arrived on time and where professional to work with and take full control of the children from beginning to end. I loved the way the children responded to Kelly and her team and they had an incredible way of including the adults.
Kelly and Glenn i honestly cant thank you both enough, such a great job.You guys where incredible and handled everything so professionally. You did what you said you were going to do and brought the fun. The night and you guys exceeded my expectations and i am truly grateful. Ben Pophams welcome home party that had close to 400 people and with guests that included The Lord Mayor Basil, Telethon, Fatcat, and Channel , Paralympians and Politicians went off without a hitch! and wouldnt of been so successful without you both. YOU GUYS ARE AMAZING!!!!!! Highly REcommend
Jelly Kelly and co, Roving Acts and Entertainers

Clowns are a cherished and timeless form of entertainment and here at Perth Party Time we have broken the mould and put a new spin on these misunderstood performers. Jelly Kelly and Mr GlennyBean along with Baby Bubbles the Elephant and their bubble propelled pram will roam the site and sprinkle the party goers with more than just joy. Jelly Kelly has her own flamboyant style, she is Perths most sought after kids comedy act and grownups love her cheeky mischief too.

Jelly Kelly and Mr Glennybean are a must have roving act for any festival. Our  entertainers are professional, high energy and lots of fun.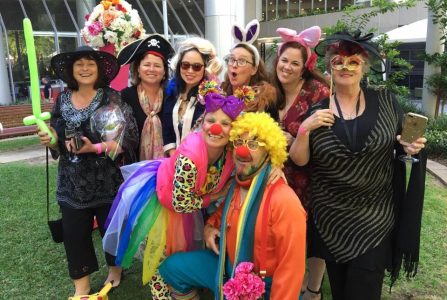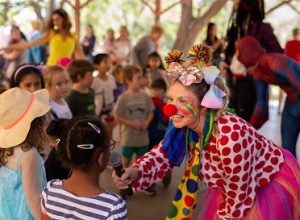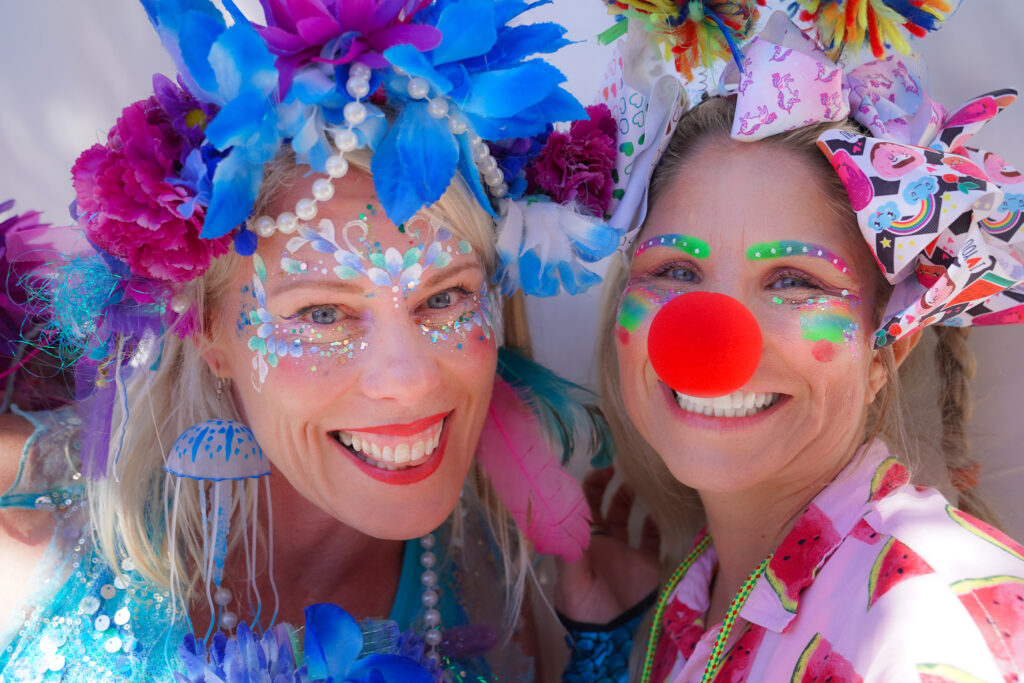 Glam girls and gorgeous guys are queuing up to get their faces and beards painted with starry twinkle treatments. Body art professionals are everywhere but none are like Jelly Kelly. Trained in Clown Beauty she is the glitziest clown in town with her very own Glitter Bling Boutique.  Our products are of the highest  quality. Your event will truly shine with Jelly Kelly ready to adorn music lovers party going kids or adventurous Adults alike. Social Media users love taking selfies with our super colourful and outrageous clown showing off their new bling.
The Jelly Kelly and the Muffins Show
MC Jelly kelly big energy comedy act
If you need an MC for any event in Australia look no further. Jelly Kelly is the best. She has hosted hundreds of events including the Channel 7 Mandurah Crab Fest. Her big energy, comedy act has kept hundreds of thousands of children and adults  entertained over the course of her career. Professional yet fun MC Jelly Kelly will keep the atmosphere high at any corporate event or community based festival. We love Perth and Regional Australia, we travel far and wide.
Story Time with Jelly Kelly and Bubbles
The Whimsical Gang & Jelly Kelly love a good book, theatrical and highly entertaining let these beautifully funny characters engage your little people in stories. Imagination is at the core of Perth Party Times message & mission, let's build, sow and grow children through the art of story telling. We use music, props, nursery rhyme and puppets to take your children on a trip to story land.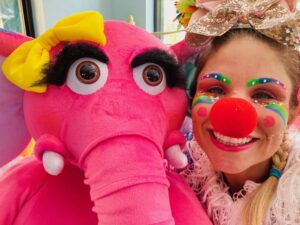 Positive:
 Professionalism,
 Quality,
 Responsiveness,
 Value
JELLY KELLY THE CLOWN is a HOOT! You and your kids need this clown in your life for the LOLS and ALL the fun at parties. I had Jelly Kelly light up the room at one of my events with women of all ages and it was so EPICALLY FUN. To embrace our child like selves. Far often we are too serious and Jelly Kelly gave us that freedom that day to loosen up and just have fun. I highly recommend Jelly Kelly not just for kids birthday parties but for the adults too. Big love and thank you Kellyjoy you have a gift x
⭐️⭐️⭐️⭐️⭐️
Travel of up to 30 mins (there is a small fee for extra distance)

We are flexible with times however due to our high energy entertainment will require some breaks during our sessions.

Two Entertainers.

PA System and commercial bubble machine and various props including balloons, puppets, costumes and of course silly pranks and games.

Jelly's Glitter Bling Boutique. Note:  We will on occasion charge a small fee to patrons depending on the size, detail and products used in each of their artistic requests.

We are happy to tailor entertainment requirements to suit your needs.

We require a small nonrefundable deposit with a booking to secure your date and time.