Superhero and Action Adventure Party
We are calling all Explorers, Adventurers and Superhero's to come on this exciting exploration into the world of action and adventure. 
 The center piece of this party are the Head Quarters of our action adventure Teams and at every step of the way the children are involved in building this important structure. The HQ represent, team work, a place of friendship and a sense of achievement, like any Den this is a fun exciting place to make plans and execute them. We set up an assault course and even bring our crocodiles, Lava River and Dinosaur. We engage the children in games and activities which are fun, silly and also hold their attention. This party experience is truly magical and taps into every child's needs and desires for positive attention and praise. We have captured the true meaning of Imagination and Creative Adventure play.  
We encourage parent child bonding through play and at times you will be asked to join in the activities, be part of the memories, embrace the moment, use your imagination, be creative and feel playful. A tall order you say? We think not! We love life, children and having fun. Laughing should be a daily practice. Let us share our joy, enthusiasm and positive vibes with you.
My son's had a joint birthday party recently, we had an adventure Party with the pirates! The kids all had a fantastic day with so many games and activities from treasure hunting to giant bubbles. I'm extremely impressed with the entertainers from Perth Party Time and will 100% be recommending to everyone and booking again myself in the future.
Guys at Perth Party Time are awesome!!! We just had one amazing party for our 5 year old yesterday! Kids were so busy and involved that we did not realize how quick the time flew by. We had Adventure Play party with games and treasure hunt quest, and a beautiful photo shoot as super heroes at the end! Thank you guys once again! You are true life savers for parents!! And already looking forward to booking you for next year:)
We were lucky to have Perth party time to host our little one birthday day, kelly is such an amazing and friendly person she treated our party as it her own , she is really thoughtful of kids need and making sure they are engaged and having fun all time , we were having superhero party so they invited spider man 🙂 such an awesome young man energetic, bubbly and funny kids were mesmerised and followed him in every single move , they top the show with heaps of games , giant bubbles , photos and treasure hunt , eveyone were happy , I definitely recommend their service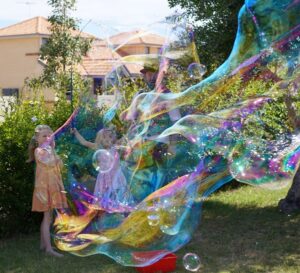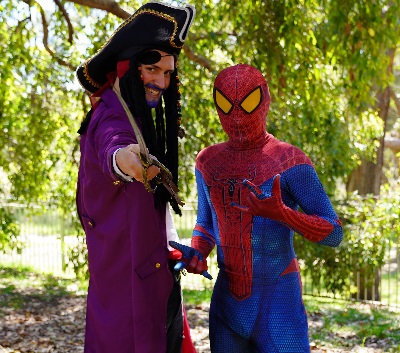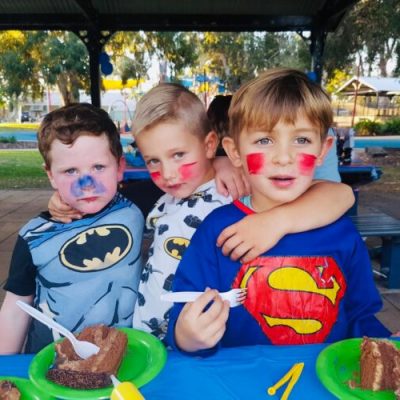 Travel of up to 30 mins (there is a small fee for extra distance see FAQ)
Set up time of approximately 30 minutes (which is usually done prior to guests arriving and can be 45 mins for Deluxe party.)
Option for 60 or 90 minute Party
Standard Show includes Captain Pirate and Fairy plus the following:
Giant Bubbles
Two professional adult entertainers
Music and state of the art audio system
Commercial Bubble Machine
Face painting
Interactive show engaging all children and parents
Boxes of dress up  Costumes
All props for Games
Enough fun and laughter to exhaust even the most active of children

Deluxe Party includes the above plus:

Giant Den Building activity
Event suits larger outdoor space or park 
Special Effect Hero Photo Booth 
Assault course
Working with Children Certificate
NOTE: "Super hero's" costumed Entertainers length of appearance can be restricted in summer months and is recommended they be held in Air conditioning premises.
We require a small nonrefundable deposit with a booking to secure your date and time 
WE CREATE MAGICAL MEMORIES